By Fr. James "Santiago" Gaynor, C.PP.S.
As we observe the night sky of stars and moon, it is impossible to not believe in something and someone beyond planet Earth. As we observe the sun rise of a new day and how wonderfully the planet turned on its axis in the last 24 hours and how the seasons change from spring to summer, from summer to fall, from fall into winter and once again back to spring, we conclude that someone has to behind this marvel.
As we appreciate people around us, that is wonderful thing. Above all, the parents who bring us into this world, feed us, accompany us in growing up, in studies: grade school, high school and college, covering the cost of food, clothing and shelter. What sacrifice!  No doubt there was a lot of love there. We might be tempted to dedicate ourselves totally to them, but that would be a mistake, since they too are the product of the creation of an all-caring God.  We owe God our attention even beyond what we give our parents.
There will be other people in our lives for whom we feel a great affection. In my own case, this would be my sister Alice, who died a few weeks ago. She was the sibling who was always two steps ahead of me in learning and helping me learn, in growing up and helping me grow up. Even though she means a lot to me, she was only using the talents God gave her to favor me. She left a note directing us that in her funeral liturgy we read the Gospel from John in which Jesus says: "Don't be sad at my going. I am going to prepare a place for you, so that where I am, you may also be." She indicated to me: don't look to me but to God.
There are going to be crosses and losses in life. In his book "Forming Fathers," Carter Griffin reflects on why the Cross? He writes, "We have to get over our fear of suffering. There is no other way to love. Picture in your mind a young man, kneeling in front of his beloved with a diamond ring, asking her to marry him. Misty eyed, he says. 'I love you, my dear, and I will love you for the rest of my life as long as it is easy. I will love you forever as long as I don't suffer for it.' Suffering is inseparable from love."
God, who is love, always dwells within us, so that, when we do something good, it is not because we are a good Santiago, but rather, because we are a Christian gifted by the God who dwells in us. Without him we would be able to do nothing.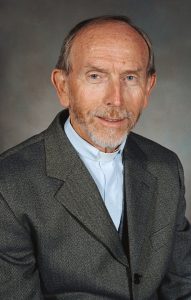 Fr. James "Santiago" Gaynor, C.PP.S., who served in Peru for many years, this month begins his new assignment as a member of the pastoral staff at St. Gaspar Family of Parishes.